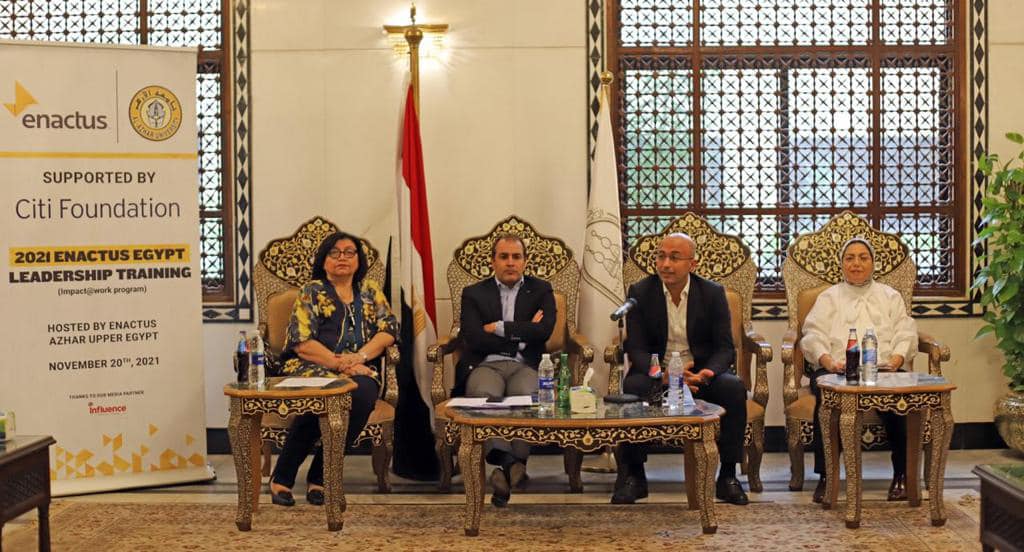 09 Dec

Citi Foundation and Enactus launch the Impact @ Work Program

The Citi Foundation and Enactus are joining forces to launch the first phase of the social entrepreneurship program "Impact@Work" in Egypt, for the first time.

The "Impact@Work" program aims to engage 2,500 students between 18 and 25 years old

to develop the business skills necessary to transform social impact projects into startups

through training and mentoring support.

Youth are a quarter of Egypt's population but 90% of those unemployed are under 30. If they have

a job, many young people have to accept low productivity, low paid and insecure jobs, far below

their capabilities.

Across the region, people need more sources of income – particularly youth. Local economies and

markets demand a the skill gap be narrowed, entrepreneurial thinking and skills be fostered and ,

innovative practices be championed at the national and regional level.

Inspiring, educating and leading youth to become entrepreneurs is a solution that will lead to

economic empowerment.

Impact@Work helps young people aged 18-25 who lack access to empowerment opportunities to

create income-generating economic, social and environmental projects. The project will use a

grassroots approach to recruit and mobilize high potential, underserved youth from low- and

middle-income backgrounds and transform them into entrepreneurs who start and grow their own

projects. We will foster the results achieved in the previous phases and enhancing the

sustainability of existing projects in Algeria, Morocco and Tunisia and adding Egypt; by codesigning along with potential participants and stakeholders, a program that answers their needs, and develops the skills of youth-led businesses.

Program Description:
Students recruitment and mobilization in the Enactus programs in Egypt.
Needs assessment and projects development: This step focuses on support and mentorship for the students to design their projects and validate their business models and start implementing their prototypes. Citi Staff will be invited to provide mentorship to students about the proper design of their projects and business models.
Implementation and impact measurement: Students will run their projects and have the early sales and results for three months. To enhance their projects progress and achievements, students will have access to small seed funds.
Showcase and projects evaluation: Regional and national competitions will be held to choose and recognize the best projects. Citi staff will take part in the selection of the top projects.
Projects Incubation: After the showcase phase, we will select the most promising projects that can be converted into viable businesses and boost their growth through a 6-months hands-on program. These projects will have financial support through seeds funds.
At the end we aim to create at least 10 new Businesses across in Egypt and build the capacities for at least 53 existing businesses to be able to scale.
The Citi Foundation aims to promote economic progress and improve the lives of individuals
in low-income communities around the world. The Foundation invests in efforts that enhance
financial inclusion, catalyse employment opportunities for youth and reinvent approaches to
shape economically vibrant cities.
The Citi Foundation's approach " More than philanthropy " harnesses the tremendous skills of Citi and its teams to fulfill its mission and push for thought leadership and innovation.